Pracownie badawcze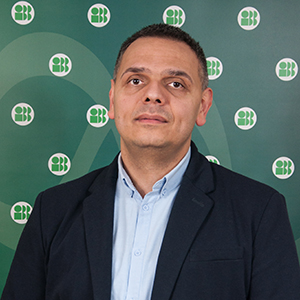 Dr hab. Robert Bialik, Prof. IBB PAN
Zakład Biologii Antarktyki
Zakres badań
The Department of Antarctic Biology is responsible for the scientific program that is undertaken at the Arctowski Polish Antarctic Station, providing expert opinions about Antarctica for numerous Ministries of the Republic of Poland. We specialize in physical oceanography, marine biology, glaciology, and meteorology, with a particular focus on biology, including conservation biology, ecology, and microbiology.
Badania
Najważniejsze osiągnięcia badawcze
We implemented novel technology solutions for research on krill-dependent indicator species, which led to the location and identification of threatened Antarctic fauna populations in isolated and hard-to-access polar regions.
We discovered several succession-related phenomena within the microbial community that resided on the surface of Arctic and Antarctic glaciers.
We proposed a new method of conducting biomechanical tests of aquatic plants in wet conditions that represent natural plant habitats.
We estimated overwintering habitat use by three species of Pygoscelis penguins from colonies that are widely distributed across the Antarctic Peninsula.
Opis badań
Remote sensing of polar regions
We sought to quantitatively estimate the amount and type of suspended matter that is delivered from glaciers on the South Shetland Islands to the marine environment using a wide spectrum of remote sensing methods to assess turbidity variations in the glaciomarine environment. We also developed new methods to obtain digital data using unmanned aerial vehicles that record information in various spectral ranges and using a terrestrial network of automatic camera traps and telemetry transmitters.
Ecology of polar microorganisms
Our research seeks to broadly understand the ecology of polar microorganisms and address the following issues: (i) decomposition of avian guano and marine macroalgae in the Arctic and Antarctic, (ii) the impact of global warming and glacier retreat on the composition of postglacial soil microbiocenoses, (iii) changes in microbial communities on the surface of glaciers in both hemispheres, (iv) microbiota that are associated with Antarctic flowering plants and lichens, and (v) psychrophiles, including stress survival, genetics, and biotechnology.
Law related to protection of the environment in Antarctica
It is our responsibility to adapt scientific and logistic activities that are conducted at the Arctowski Polish Antarctic Station to comply with environmental protection standards that result from the Antarctic Treaty System. We supervise monitoring of the natural environment in the vicinity of the Arctowski Station and take care of laboratory and research equipment at the Arctowski Station. Two team members are Polish Representatives of the Environmental Protection Committee (CEP), which is an advisory body of the Antarctic Treaty Consultative Meeting (ATCM). The research interests of the team primarily focus on conservation biology and the impact of climate change on wildlife distribution and the physiology and behavior of animal breeding on King George Island. Apart from employing a fundamental research approach, the results of our investigations constitute recognizable input into managing the commercial harvesting of Antarctic marine life resources in the scope of work by the Commission for the Conservation of Antarctic Marine Living Resources (CCAMLR) and Antarctic conservation issues in the face of rapid climate change.
Metodologia
The Department of Antarctic Biology mainly develops remote sensing methods to monitor biotic and abiotic components of the Antarctic environment. We also use traditional techniques of environmental observation. The following scientific equipment is used by the department:
YSI EXO 1 Multiparameter Water Quality Sonde with four sensor ports.
YSI EXO 2 Multiparameter Water Quality Sonde with seven sensor ports.
YSI Pro10 Handheld pH and temperature instrument.
YSI Pro1030 pH and conductivity, salinity instrument.
The LISST-200X (submersible laser diffraction-based particle size analyzer).
WorkHorse Sentinel ADCP 300 kHz.
WorkHorse Sentinel ADCP 600 kHz.
SonTek RiverSurveyor M9 3.0 MHz/1.0 MHz.
MALA ground penetrating radar with various antennas (25, 30, 200, 800, and
1600 MHz).
Electromagnetic Flow Meter Valeport – 801.
Several diver water level data loggers by Eijkelkamp.
Four Cyclapse Pro time-lapse camera system by Harbortronics.
Three pontoon boats (Zodiac MK4 HD, Zodiac MK6 HD, SEA RIB ZODIAC SRA-750).
UAV Parrot BlueGrass with Parrot Sequoia+ sensor.
Three UAVs DJI Inspire 2.
UAV Phantom P4 Multispectral.
Wybrane publikacje
A smelly business: Microbiology of Adélie penguin guano (Point Thomas rookery, Antarctica). Grzesiak J., Kaczyńska A., Gawor J., Żuchniewicz K., Aleksandrzak-Piekarczyk T., Gromadka R., Zdanowski M.K. Science of The Total Environment. 2020. doi: 10.1016/j.scitotenv.2020.136714
Application of UAV BVLOS remote sensing data for multi-faceted analysis of Antarctic ecosystem. Zmarz A., Rodzewicz M., Dąbski M., Karsznia I., Korczak-Abshire M., Chwedorzewska K.J. Remote Sensing of Environment. doi: 10.1016/j.rse.2018.08.031
Biodiversity and Habitats of Polar Region Polyhydroxyalkanoic Acid-Producing Bacteria: Bioprospection by Popular Screening Methods. Rogala M.M., Gawor J., Gromadka R., Kowalczyk M., Grzesiak J. Genes. doi: 10.3390/genes11080873
Breeding Colony Dynamics of Southern Elephant Seals at Patelnia Point, King George Island, Antarctica. Fudala K., Bialik R.J. Remote Sensing. 2020. doi: 10.3390/rs12182964
Individual variation in migratory movements of chinstrap penguins leads to widespread occupancy of ice-free winter habitats over the continental shelf, deep ocean basins of the Southern Ocean. Hinke JT., Santos M.M., Korczak-Abshire M., Milinevsky G., Watters G.M. PLoS ONE. 2019. doi: 10.1371/journal.pone.0226207.
Współpraca
Budzik Tomasz, Institute of Earth Sciences, University of Silesia, Poland.
Dąbski Maciej, Faculty of Geography and Regional Studies, University of Warsaw, Poland.
Galan Alexander, Departamento de Oceanografía Concepción, Chile.
Górniak Dorota, University of Warmia and Mazury in Olsztyn, Poland.
Hinke Jefferson, Antarctic Ecosystem Research Division, Southwest Fisheries Science Center, National Marine Fisheries, USA.
Leppe Marcelo, Director of the Chilean Antarctic Institute, Chile.
Krzemińska Ewa, Institute of Systematics and Evolution of Animals, Polish Academy of Sciences, Kraków, Poland.
Nikora Vladimir, Fellow of the Royal Academy of Engineering, University of Aberdeen, Scotland.
Polkowska Żaneta, Faculty of Chemistry, Gdańsk University of Technology, Poland.
Rodzewicz Mirosław, Faculty of Power and Aeronautical Engineering, Warsaw University of Technology, Poland.
Szopińska Małgorzata, Faculty of Civil and Environmental Engineering, Gdańsk University of Technology, Poland.
Watters George, Director of the Antarctic Ecosystem Research Division, Southwest Fisheries Science Center, National Marine Fisheries, USA.
Zmarz Anna, Department of Geoinformatics, Cartography and Remote Sensing, University of Warsaw, Poland.
Nagrody i wyróżnienia
Małgorzata Korczak-Abshire, Antarctica Service Medal and Certificate presented in recognition of valuable contribution to exploration and scientific achievement under the U.S. Antarctic Program. 2011. USA National Science Foundation.
Robert Bialik, Outstanding Young Scientist Award, 2012. Ministry of Science and Higher Education, Poland.
Robert Bialik, Willi H. Hager JHR Best Reviewer Award for outstanding reviews during the period 2012 – 2014, 2015, IAHR, The Netherlands